I have an MX400 in a jet ranger scale body.
Prior to installing the the scale body, the heli ran at 15 amps in hover and on a 1800mah battery I got 7 minutes per flight without any problems. Battery was fine and just mildly warm.
This scale body is pretty lightweight lexan, but it has very little cooling vents.
this is waht the heli looks like now.
now the heli draws 17 amps, and based on that I should get 6 minutes.
After a few minutes of flying, the heli would drop out of the sky. It did this twice in the gym this weekend and on the second time I checked the ESC- it was smoking hot!. I suspect it overheats and cuts out, causing the heli to drop like a stone. The battery gets really hot too. On my last test flight last night, I touched the motor and it too was hot as heck.
Obviously cooling is a problem.
The only air in on top is here: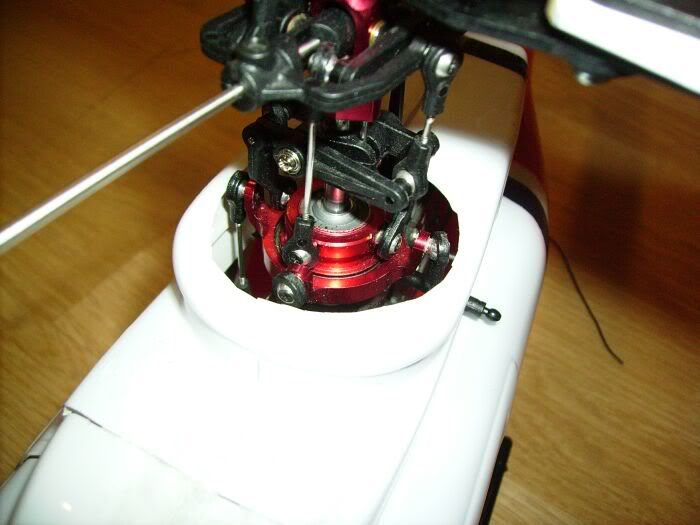 and on the bottom this is the cutout:
The MX400 main gear and auto-rotation gear have spokes that are...well, just spokes.(not like the T-rex that has little fan blades that direct cooling air into the heli)
So I would like to ask others out there for what ideas they have had for cooling.
I don't want to cut the side windows out just yet, but if I don't get any suggestions for cooling, that my have to be my next step.
By comparison, I have a T-rex in the HK Jet Ranger scale body that is also fully enclosed, and I don't have any cooling problems whatsoever with that.
The EC135 is flying on HK450 mechanics, but it does not have any side windows, and it too runs cool with no overheating.
Suggestions? Ideas? let me know.
Thanks