Great powered glider full scale and model.
Wingspan 84" approx
Power E-Flite Power 10 1100 rpm/volt
ESC Castle Phoenix 35
Servos 4 installed
Plans & Manual
Note: The landing gear provided in the kit was unsatisfactory and was
removed. Others have found the same.
Plane hand-launches easily and looks gorgeous in flight.
Price $150.00 Pick up in north-west Toronto.
JR Receiver at 72 mHz: $40 extra if desired.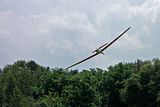 sale
================================================== =======
RCC Classified Quick Rules
- Location & price is a must when selling RC related items. Update your
profile
!!!
- Use the
feedback system
after a sale / trade.
- Buyer Beware!
- One bump / TTT every 3 days.
- Classified rules
here
.
** Infractions will be passed out if rules are broken. Threads may be deleted.
================================================== =======