After many happy years, moving house and downsizing.
For Sale: partly built Super Chipmunk. This is a Ron Daniels kit, 1/9 scale, in original box.
Wingspan 45"
3 servos - installed
Motor E-Flite Power 15 not installed
ESC Castle Phoenix 35
Spinner, wheels, covering material, manual & drawings etc.
Priced to recover my cost of motor and ESC. Everything else free.
Price $160, pick up in northwest Toronto.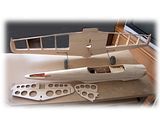 ================================================== =======
RCC Classified Quick Rules
- Location & price is a must when selling RC related items. Update your
profile
!!!
- Use the
feedback system
after a sale / trade.
- Buyer Beware!
- One bump / TTT every 3 days.
- Classified rules
here
.
** Infractions will be passed out if rules are broken. Threads may be deleted.
================================================== =======