Im selling this FlyFly/HK
90mm
F-100 to fund other projects.
It has only 5 flights on it and has had many upgrades such as Working lights. The elevon servo's have been moved closer to the actuator and have HS-82 MG servos opperating them. The ailerons are 9g servos and a Rudder servo has been added. The plane has been custom painted by yours truely. It comes with the stock fan + a Landers alluminum fan and shrowd. The gear have been removed and is set up for a bungee launch. As you will see in the video, this is the best method. You will need a 100amp ESC and motor combo, plus Rx and batteries. I have flown it on 6s 7s and 8s. The model also comes with stock Drop tanks and Napalm bombs.
Plane: 177+50 shipping.
Landers Fan unit: 82+20 shipping
servo's: 2x20 + shipping
Total= $369US Not including taxes and UPS exstortion fee's
$200 takes it home.
http://www.hobbycity.com/hobbycity/s...dProduct=15145
http://www.pw-rc.com/images/large_im...m-fan-only.jpg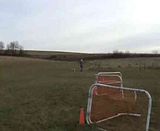 ================================================== =======
RCC Classified Quick Rules
- Location & price is a must when selling RC related items. Update your
profile
!!!
- Use the
feedback system
after a sale / trade.
- Buyer Beware!
- One bump / TTT every 3 days.
- Classified rules
here
.
** Infractions will be passed out if rules are broken. Threads may be deleted.
================================================== =======