This is a beautiful classic aircraft.
Scratch built on a fibreglass hull.
Wingspan 72 in.
Area 870 sq in.
Power Great Planes Rimfire #4745, 650 rpm/volt.
ESC: Castle Phoenix 60; BEC: Castle 10 Amp.
Servos: 6 Installed; Oversize wheels for grass field.
Plans included.
Price, based on my cost for the motor & ESC: $220; Pick up northwest Toronto.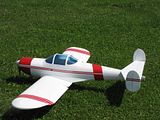 ================================================== =======
RCC Classified Quick Rules
- Location & price is a must when selling RC related items. Update your
profile
!!!
- Use the
feedback system
after a sale / trade.
- Buyer Beware!
- One bump / TTT every 3 days.
- Classified rules
here
.
** Infractions will be passed out if rules are broken. Threads may be deleted.
================================================== =======