Vertigo Venture All Composite Jet (Sport/Trainer)
Bought this Jet from a member of RCU a few months ago. I'm working on other project so will need to let this one go. This is the test model for the turbine conversion from electric, Finished project, tested and all working will.
Fine flyer and great way for someone to get into jets cheap.
This is what is included.
Airframe comes with, full retract system, brakes, struts, wheels with metal rims, valves, servo, air tank, all hooked up and working. metal gear Digital servos, on split Flap system, elevator, and steering, ( you will need aileron and rudder servos). Most of the servo extensions, a 50oz Dubro fuel tank and the UAT system.
No turbine, batteries, accessories, only what is listed, is included!
Specs:
Wing Span: 76 inches / 1930mm
Fuselage Length: 71 inches / 1800mm
Wing Area: 969 sq inches / 62.5 sq dm
Flying Weight: 19 pounds
Power: P-60 or K-80
$650.00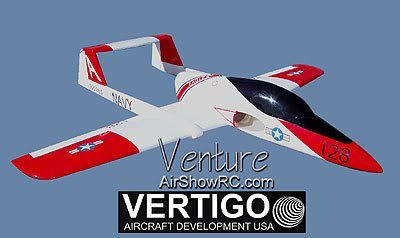 ================================================== =======
RCC Classified Quick Rules
- Location & price is a must when selling RC related items. Update your
profile
!!!
- Use the
feedback system
after a sale / trade.
- Buyer Beware!
- One bump / TTT every 3 days.
- Classified rules
here
.
** Infractions will be passed out if rules are broken. Threads may be deleted.
================================================== =======