following upgrades:
futaba 3pm digital 3 channel tx/rx
alloy diff cases
complete ti/ni tranny gear conversion
forward only conversion with swapped ti/ni gears
upgraded kevlar with metal insert brakes
23mm proline hubs
1 set of 40 series crime fighters(25% tread)-23mm hubs
1 set of big joes (95% tread)on mint 40 series white wabash o-23mm
integy alloy shock towers
integy alloy arms all around
complete set of rpm arms mounted on cariers for bashing included(can be changed over in 5 minutes)
losi wing mount and new losi wing(not pictured)
2 brand new jr z65 steering servos
new ace throttle servo
rpm tranny cover
sway bar upgrade
new slipper set up
new one way brgs,bushings etc in tranny
2.5 gallon lrp 28 spec 3 engine w/ rotostart
alloy skidplates
j concepts body
jp1 pipe
new alloy clutch
-im sure theres more..
spares:
stock gears,diff cases,misc parts
spare bulkheads
3 or 4 spare shock towers
tons of stock arms
spare tank
alloy chassis rails
spare cvd's
spare tranny parts
spare knucles
spare springs
spare clutch bell
lots of nip parts included
and the list goes on-i have more than a shoe box full of all sorts of spare parts.enough to keep you from the hobby shop for a long while.
truck is in great shape,mostly new parts all over.very tough and fast,runs and looks perfect.
heres some pics-note:it has an lrp spec 3 instead of the sts in the pics and a new losi wing/mount set(not pictured)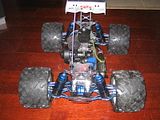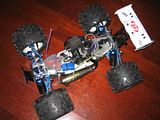 $550 cad firm or $500 firm with no tx/rx.i will throw in a 1 gallon 427 for an extra $50.no trades.
i wil not even reply to offers for less.
will ship,buyer pays shipping and paypal fees above and beyond the asking price.