The first national title for the as of yet unreleased Associated RC8! Neil Cragg's TQ and 2nd place secured him the 2007 title with one round to go.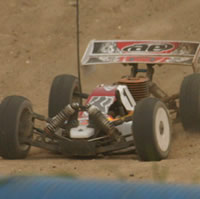 Rnd 6 of the BRCA national championships were held at Clanfield, Associated's Neil Cragg TQ'd with Crompton 2nd and Alsop 3rd. The final results are as follows:
1. Jon Hazlewood - XRAY/OS
2. Neil Cragg - AE/RB
3. David Crompton - HoBao/RB
4. Tommy Chung - Kyosho/Sirio
5. Karl Jackson - Kyosho/Sirio
6. Graham Alsop - HoBao/RB
Neil is also the current world 2wd champion and European champion with his FTB4.