Ok, so I'm going through my stuff getting ready for T-Berg and I noticed I have waayyyyyy too many partial and old and mismatched bottles of shock oil and diff fluid. Like I mean WAY too many.
Time to clean house - the following is a list of all the oils I'm wanting to get rid of. I've listed the manufacturer, the listed weight, the capacity of the bottle and the guess-timate as to how much is left in each.
PLEASE DO NOT ASK ME TO PART THIS!!!! Its so not worthwhile to part all these damned bottles out - it would take forever!
The only way I will part these bottles out will be at T-Berg in person if they don't sell before-hand. If you see me there, walk up and ask and I'll hand a bottle over for an iced tea or a hotdog or a couple bucks or whatever. The better the quality and the fuller it is, the more I will ask.
Trinity Kinwald 15wt, 2oz, 95%
Trinity Kinwald 30wt, 2oz, 100%
Trinity Kinwald 50wt, 2oz, 80%
Trinity Kinwald 60wt, 2oz, 35%
Ultimate Racing 50wt, 2oz, 100%
Ultimate Racing 60wt, 2oz, 100%
Ultimate Racing 70wt, 2oz, 100%
AE Special Formula 50wt, 2oz, 50%
AE Special Formula 60wt, 2oz, 85%
AE Specail Formula 40wt, 2oz, 15% (old-school gold label)
AE Factory Team 35wt (425cts), 2oz, 55%
Team Losi Competition Grade 275cts, 2oz, 70% (very old-school)
Team Losi Competition Grade 200cts, 2oz, 20% (very old-school)
Team Losi Performance 20wt, 2oz, 85% (ghetto)
Team Orion Shock Sledge 60wt, 1oz, 50%
Ofna Racing 10000wtg, 2.5oz, 70%
GS Racing 7000cps, 2oz, 45%
HPI Silicone Diff #1000, 30cc, 85%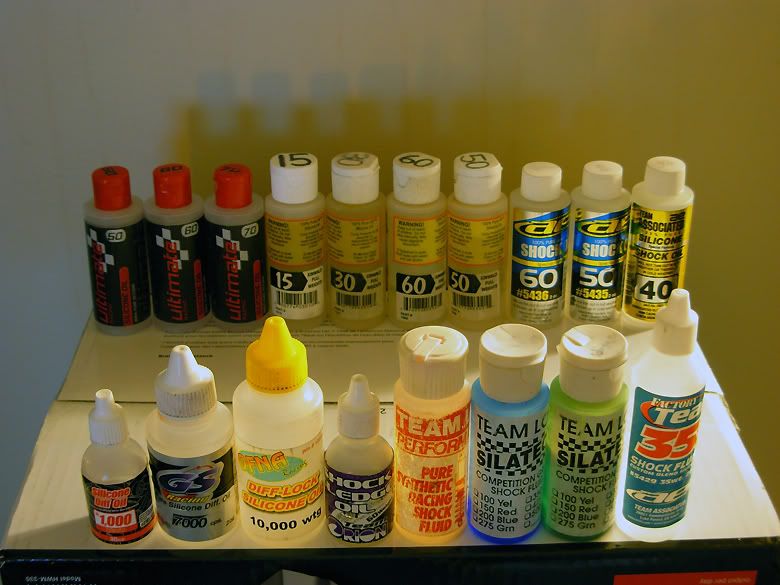 Looking for $40.00 for the lot.
Or, if you're into buying my SP1 or SP2, I'll tak it on to either buggy for an additional $20.00.