Ok people. I just don't have the time that I thought I would have this summer and don't know when I will so I'm putting up my Mini-T for sale.
Here's a breakdown of what I've put into it, and the truck has only been run about 8-10 times total so it's in pretty excellent condition.
Losi Mini-T $100
Mamba 25 w/ 6800kv motor $105
Castle Link $25
Titanium turnbuckles $18
ORDER 1 From RCboyz $20.92
RPM front bumper
Racer's Edge blue aluminum front block carriers
BRP chassis brace
Blue rubber sealed bearings $11.98
GPM servo mounts $2.90
2 IB 1400 mAh packs $37.80
MIP CVDs $20.98
ORDER from Rcxmini $22.20
GPM front knuckle
GPM rear hub
ORDER 2 from Rcboyz $20.14
RPM revolvers (x4)
E-clip set
Complete screw set
Body clip set
ORDER 3 from Rcboyz $21.79
Racer's Edge F&R shock towers
Racer's Edge servo brace $6.39
Racer's Edge motor mountand heatsink $16.50
GPM pinion gears (13,14,15) $8.60
GPM steering assembly $13.98
ORDER from RC_Mall $16.70
GPM F&R pivot blocks
GPM transmission case
GPM F&R lower arms $25.99
3racing shocks (x4) $24.00
CF Lower plates $3.99
Dual Disk slipper assembly $13.02
GPM motor guard $13.90
Hitec HS-55 servo $12
HS-55 servo saver $4
Proline Road Tires (x4) $20
HR wheelie bar $14
MIP ball differential $16.74
Losi Ball Diff $22
Losi Ball Diff rebuild kit $6
Losi Spur Gear $3
JR XR3i $189.99
Total
: $837.51
I'm looking to sell it as a complete package, but may consider selling electronics separately. Price for complete truck is $475, which as you can see by what has been done to it, is pretty darn good in my opinion. The truck has Dean's ultra pugs installed on the ESC and 2 battery packs, and the only thing you need to get it going will be a charger.
*NOTE* Truck will come with XR3i and R135 receiver, NOT the rs310 shown mounted in the chassis.
Pics......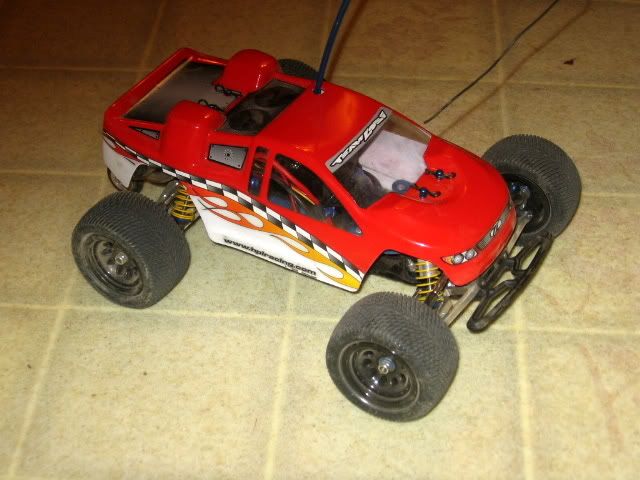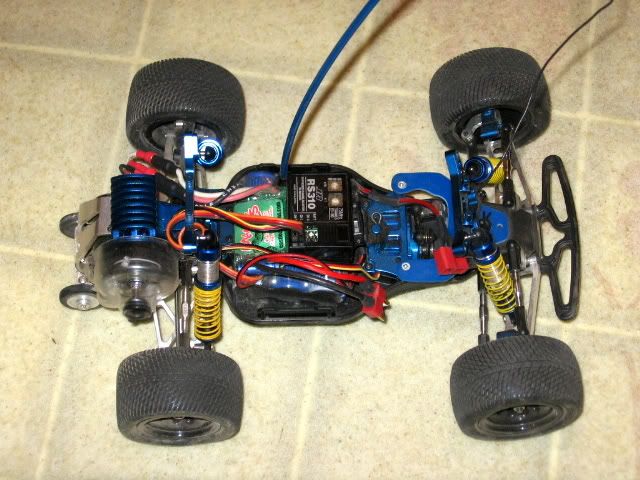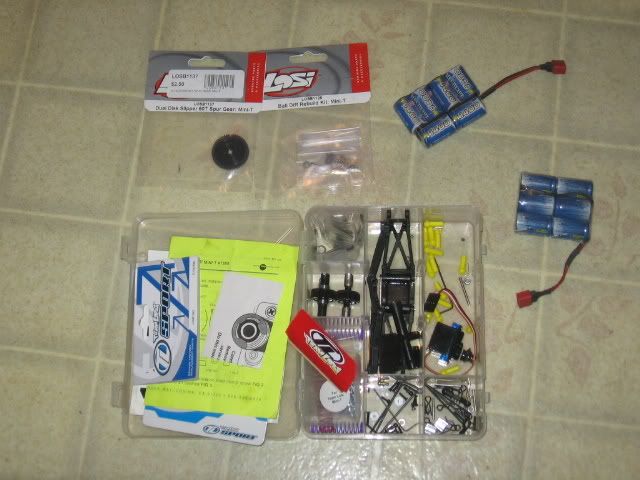 Also comes with the stock tires, but 1 rear rim is broken (as you can see in the pic)
Feedback can also be found on Ebay under still-life75, I have 100% on well over 200 transactions.
Any questions can be sent through PM or email me at
perpetual_pandemonium@hotmail.com
Thanks,
Michael