Few weeks ago XXXmain/XRC Cars editor Jeff Eveleigh orchestrated a "Mass" test using the HotBodies D8 buggies. The purpose of the test was to provide the magazine X-clusive information about Light-Weight Vs. Box Stock and to compare timing, handling, durability and all around performance. We had two buggies setup with the exact same profiles, shock and diff oils, roll centers and ride heights with the exception that one was equipped with every hopup part available from HotBodies and the other was completely box stock. We used the same tire profile on each buggy but changed out only the engine/pipe combo and radio tray so that the buggies had equality on all four corners, power plant and servo setups.
The drivers involved for this test were; Jay Cristiano, Ryan King, Dave Lyons and myself. Each of us were given 26laps on each of the buggies. The times were recorded and the results calculated. For more information about this test pickup your copy of July's issue of Xtreme Rc Cars Magazine to read more about the entire test day held at Hardcore Rc.
Special Thanks to Hardcore Rc Raceway and to photographers Jonathan Rodrigues and Tim Sanderson.
PAGE FROM THE MAG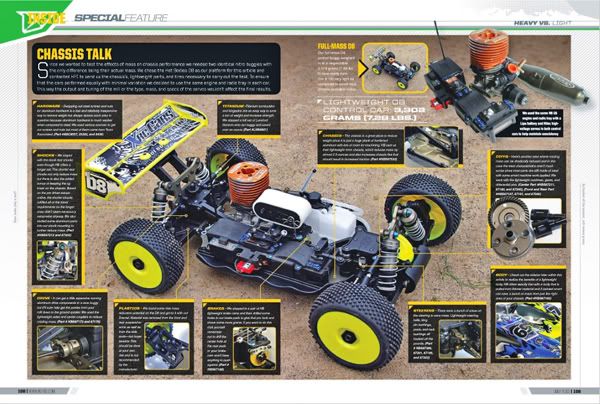 Lightweight D8 in Action...