Posting this for my dad.
This is a near new Saito 170 3 Cylinder Radial (will have pics in a day or so) Complete with an exhaust ring from Keleo creations.
The engine has MAYBE a dozen runs on it. It was installed and flown in a Balsa USA Fokker DVIII. Never crashed, never so much as a broken prop on this engine. It is being sold only because dad is finally sold on getting a turbine engine and is just trying to raise some extra funds for the turbine.
This engine brand new is now $1000 plus tax from Great Hobbies. When Dad bought it they were $1100. The exhaust ring was $105USD plus shipping and taxes for this engine.
The engine is complete with the exhaust ring and the wiring harness for the 3 glow plugs. It is a very strong runner and sounds fantastic.
He is asking $1000 for the engine with the exhaust ring. This is still not even fully broken in! If you have been waiting for a 3 cylinder radial but were looking for that better deal this is it!
I will post the pictures as soon as I have them!
Please email me at
lgm@lgmguitars.com
for more information!
Thanks
Jeremy
Stock photo of the engine: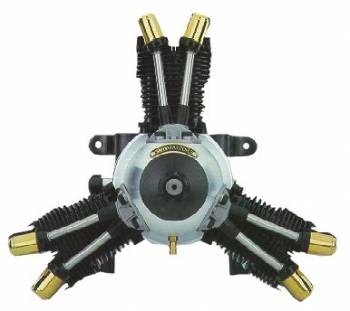 Stock photo of the exhaust ring:
================================================== =======
RCC Classified Quick Rules
- Location & price is a must when selling RC related items. Update your
profile
!!!
- Use the
feedback system
after a sale / trade.
- Buyer Beware!
- One bump / TTT every 3 days.
- Classified rules
here
.
** Infractions will be passed out if rules are broken. Threads may be deleted.
================================================== =======