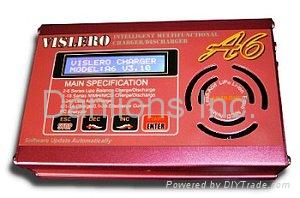 Who can charge/discharge 6 types of batteries and even more along with the updating of its software?
Who can support three types of power supply?
Who can be easily used with no complicated settings?
Who can be upgraded by network automatically to have more and more new functions?
Who can be compatible with various balance connectors of batteries?
Who can be the most reliable with longevity as well?
Join in Agent Team of VISLERO A6 Charger to Win-Win with VISLERO!
Go through the below link to get more information:
http://danlions.com/Charger/
Contact us:
www.danlions.com
agent@danlions.com
or E-mail me:
fiona@danlions.com

================================================== =======
RCC Classified Quick Rules
- Location & price is a must when selling RC related items. Update your
profile
!!!
- Use the
feedback system
after a sale / trade.
- Buyer Beware!
- One bump / TTT every 3 days.
- Classified rules
here
.
** Infractions will be passed out if rules are broken. Threads may be deleted.
================================================== =======