I've got 1 complete GPS autopilot systems for sale at the moment; the other 2 are 80% complete and will be completed if there is an interest. The circuit board is handmade but functional and reliable. I built these for a couple of buddies but they all flaked on me so I'm pretty much stuck with them. A handheld GPS unit such as a garmin E-trex with a serial cable is required for operation. However, not all GPS units will work; only ones with NMEA output will work. This autopilot was built from open source plans which are available here:
http://rcpilot.sourceforge.net/modules/rcap/index.php
I have flight tested all of them to ensure reliability in a powered glider. These autopilots will
NOT
work in a normal powered R/C aircraft unless it is very very stable. Will not work in Heli's either. You can use a FMA stabilization system but I've found that they cause alot of "servo shudder". This autopilot only controls the rudder.
Looking to get about $50 for each of them. Shipping will be $5 to anywhere in Canada.
I will not ship these outside of Canada. I will not sell to you if you are of questionable reputation or looking to use these autopilots as weapons. You will be interviewed via phone or MSN before I complete the transaction with you. I am also not responsible for any damage that occurs from the use or misuse of these autopilots. You are also responsible for following the FAA regulations and your local laws regarding the use of these devices.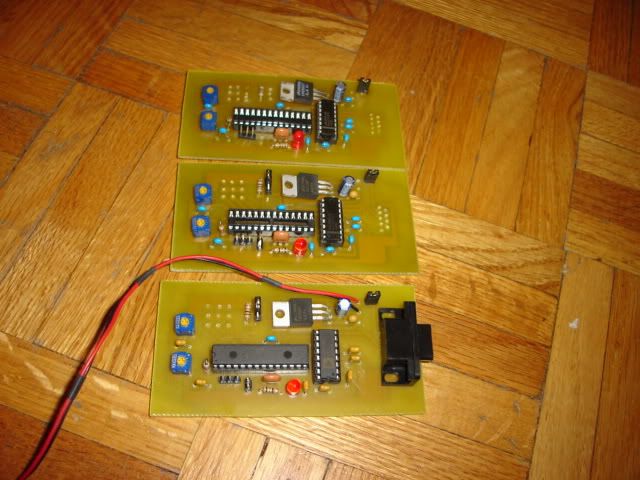 Thanks for looking
================================================== =======
RCC Classified Quick Rules
- Location & price is a must when selling RC related items. Update your
profile
!!!
- Use the
feedback system
after a sale / trade.
- Buyer Beware!
- One bump / TTT every 3 days.
- Classified rules
here
.
** Infractions will be passed out if rules are broken. Threads may be deleted.
================================================== =======