Airtronics Avenger 2x
2 channel AM Tx and Rx
75.99 Mhz on channel 90
Comes with 2 Airtronics 94102 servos and 4AA battery holder to power the receiver. Transmitter takes 8 AAs.
I bought this years ago, but never used it. Tested it now and everything is working.
Originally paid $128. Please make me an offer. You pay shipping.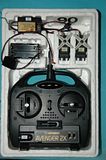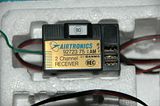 ================================================== =======
RCC Classified Quick Rules
- Location & price is a must when selling RC related items. Update your
profile
!!!
- Use the
feedback system
after a sale / trade.
- Buyer Beware!
- One bump / TTT every 3 days.
- Classified rules
here
.
** Infractions will be passed out if rules are broken. Threads may be deleted.
================================================== =======